Futon frame purchasing has evolved so much since the college dorm days. You have so many choices when selecting your futon frame, from cheap metal frames to wood arms with metal frames or all wood options. If you are selecting a college dorm room option then yes, a metal frame is the way to go. A great option that is economically sound for a short-term use. These frames tend to be not very attractive and cheaply made. Futonland calls these "throw-away-furniture" pieces.
However, if your goal is to find a long-term, more attractive solution for your home, then we suggest going for a wood frame. Depending on use would depend on the manufacturer we suggested you purchase from. There are many manufacturers that make quality, durable, attractive, all wood frames. A major factor (post frame type selection) is that of style, design, and finish.
We have learned through years of experience that most folks fail to take moving frame away from the wall into consideration when selecting a frame. If your futon will double as a sofa and your daily sleeper, this is going to be a major consideration you must make. Durable wood frames with a quality thick mattress are going to be pretty heavy. So, in this case, we always suggest a Strata Wall Hugger Frame. We say this because you will not have to pull this frame away from the wall for use! It's an amazing mechanism that is exclusive to Strata.
Adriana Antique Black Futon
Now, if your primary use for this purchase is your daily sofa (and maybe opened once a year for your cousin staying for a night) then we suggest going with a frame from either Kodiak or Night & Day. Why, you ask? Well, their sleek and stylish designs help you design your space. From the frame color, mattress choice, cover selection and accessorizing we feel they are great for sofa customization in a reasonable price range!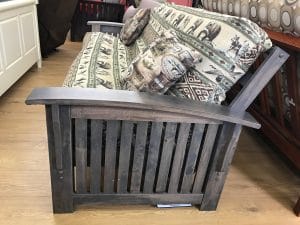 Washington Rustic Gray Futon
Happy shopping. If you ever have questions about ANY our frames or ANY futon in general we would be happy to talk with you. Email us at [email protected].