Many people only consider futons and pull-out couches when it comes to additional sleeping arrangements for guests and visitors. This mindset forces people to buy futon couches they don't love, and expandable couches that tend to be less flashy than regular ones. It can give any home or apartment that "college-life" unwanted feel, which is why we're here to introduce another space-saving, versatile bed option.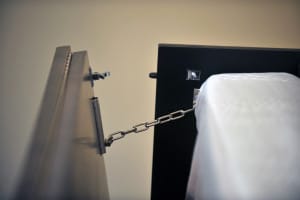 Cabinet Beds, beds that fold up and store into a piece of bedroom cabinet furniture, easily decorated and sized to fit under any window, offer options that wall beds, futons, and couch beds cannot. Cabinet Beds are self-standing units, with no screws, nails, or attachment to the wall. The cabinet itself can be moved anywhere in the home and only stands at 42.5" tall. The possibilities are endless, and the shined wood cabinets present much more appealing room design than lackluster pull out couches.
Cabinet Beds are made up to the queen size and are 66.5" wide, perfect for placing a TV as big as 70" on top. Additionally, the structure has two gas struts on the lid that prevent the lid from hitting the TV in its upright position.
The entire product was designed with the homeowner in mind, making versatile room arrangements and convenience instantly accessible by placing a bed inside a functional piece of furniture. If you don't like where your new Cabinet Bed is located after awhile – move it! Most Murphy Beds are sealed to the wall, leaving no option but to stare at it and wish it wasn't there. Not ours.
Cabinet Beds are the answer to interior design freedom and space functionality in 2017. Check out our Cabinet Bed availabilities and various sizes for fitting the ambiance of your unique home living environment.