There was a time when America lead the modern world in manufacturing and industry. When American made meant something. Quality, durability and fine craftsmanship were synonymous with the words 'made in usa'.
Today, trying to find an American made product is harder than finding an American olympic track star at a 10000 meter run. Fortunately for us, there are still some American companies left that haven't outsourced their manufacturing and KD Frames looks to keep it that way.
Based in Athens, Georgia, KD frames manufactures quality unfinished futon and bed frames with prices that are hard to beat. Made from dried tulip poplar grown in the Southern Appalachian mountains, KD Frames furniture features the charming artisanal look and feel of locally made furniture without burning a hole through your pocket.  On sale starting today, KD Frames new line of futon and bed frames will be available for purchase on our website.
A look at some of their products: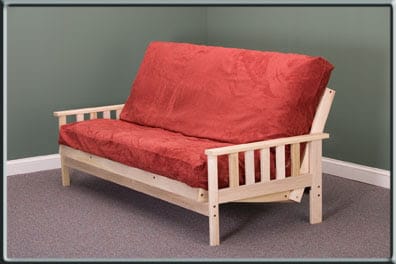 Savannah Bifold Futon Frame
With it's country style arms and natural look, the Savannah looks to bring charm to your living space.
Throw on a fresh layer of lacquered wood finish and you'll have yourself piece of hand crafted beauty.
Savannah Lounger Frame
If your looking to…well, lounge. The Savannah lounger is the right frame for you; providing maximum comfort and leisure for those sleepy Sundays.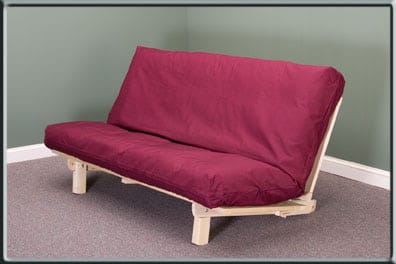 Studio Bifold Frame
If you're looking for no-frills set up, the Studio Bifold frame is for you. Not to mention the amount of space you'll save by opting out of arms.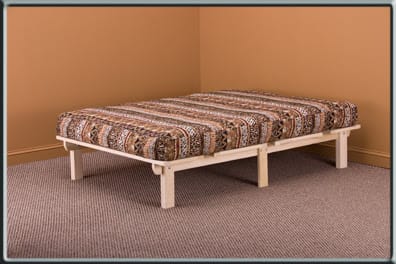 Ekko Platform Bed
Looking for a quality bed frame but can't spend a lot of money on one? Well, you're in luck because the Ekko Platform Bed Frame is just for you. Standing at 13″ high, constructed of solid poplar wood this platform bed will provide you everything you need and more at low price.
Wooden Fold Bed
Here's something you don't see everyday – a low lying wood folding bed frame. There's nothing worse than sleeping on one of those mesh wire metal folding beds; you wake up stiff and shaking your fist at the thing, then leave your relative's house for a local hotel. Not with the fold bed; it's wooden slats provide adequate support and allow your mattress to breath better. This is the perfect frame for those who like the low to the ground traditional Asian futon beds. It also make a great guest bed that will fold up and store easily.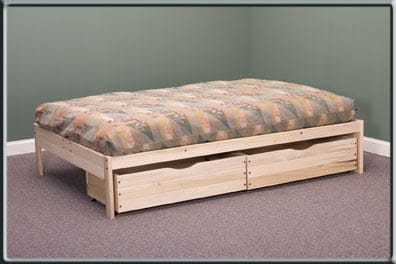 Nomad Platform Bed
And last but not least, we have the Nomad bed. Made out of solid wood, this platform bed gives you a whole slew of options that allow you to add to the frame little by little. What exactly does this mean? It means that this is an inexpensive bed that gives you the option to add a headboard, trundle bed or drawers! All of that starting at the low price of $129.99 on our website.
There you have it. Made in America, for the people and by the people.