Sleeping on a thin futon mattress can be rough, especially if you're like most people and bought one on the cheap. Which usually leaves you waking up with massive back discomfort.
The thing is, most of the futon sets people buy cheap at IKEA and other big box stores, usually come with a thin foam mattress and over time those mattresses turn into thin, lumpy, yoga mats. It's no fun to sleep on a mattress that doesn't offer much support, especially if you're sleeping on a metal frame.
Worry not people. We have a solution for your futon dilemma — a top 10 list.
10. Gold Bond Feather Touch II 9 Inch Futon Mattress
With six, count them — 6 layers of soft high-density foam wrapped in plush pre-compressed cotton giving you the firmness you would expect from a standard mattress.  It offers both durability and flexibility making this ideal for those that are looking for a thick, flexible, medium firm mattress for their futon frame.
9. King Koil Pocketed Innerspring Futon Mattress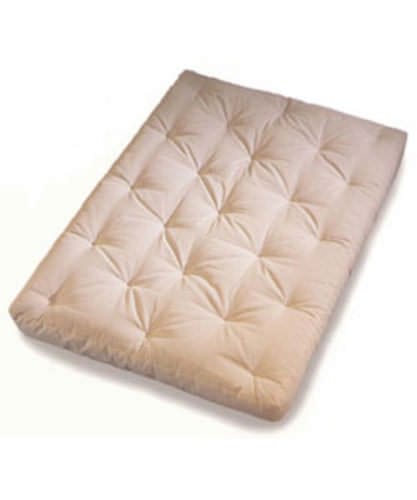 King Koil's Pocketed innerspring mattress is one of the more flexible futon mattresses on this list, and that's important since it makes opening and closing your futon frame seamless. Although flexible, it's also on the heavier side, because of its weight we recommend using this on non-metal frames. Each coil on this mattress is individually wrapped to provide maximum comfort and prevent any motion transfer from one side of the bed to the other.
With a price tag of under $300, this high-quality futon mattress can hold more than it's own weight.
8. Visco Classic 8 Inch Futon Mattress by Gold Bond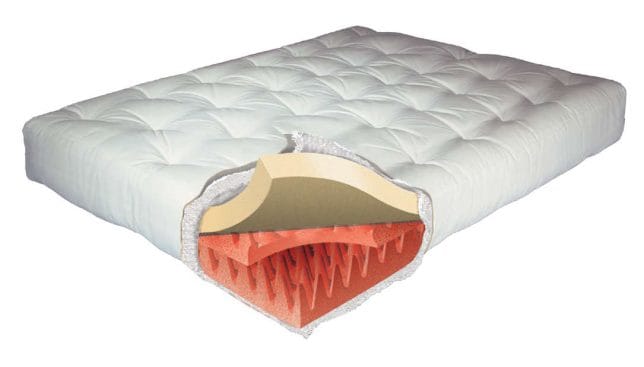 The Visco Classic from Gold Bond is a futon mattress that offers durability and support with its 3 inches of pressure relieving memory foam support. It has a really soft feel to it, so for those who are looking for something not too firm, this is the perfect mattress.
It offers luxurious comfort for both sitting and sleeping.
7. Gold Bond Moonlight Futon Mattress
At 9 inches thick the Moonlight features 4 layers of high-density foam for ideal back support,  and durability at a price you can afford. It has a medium firm feel to it that balances out well by not being too firm or too soft. Most of this can be attributed to the Moonlight's convoluted foam, which traps the cotton inside from moving around, allowing it compress more easily.
 6. Gold Bond Wool Wrap 8 Inch Futon Mattress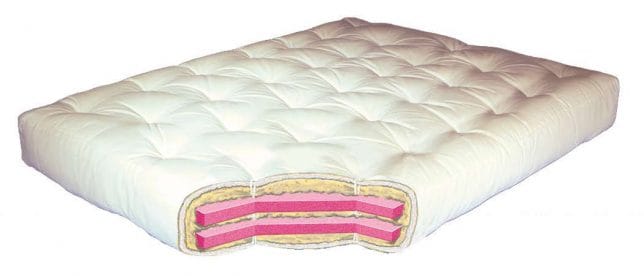 Goldbond's Mattresses keep their original firmness for years, and the Wool Wrap is no exception.  Its wool wrapping controls the temperature of your body so you can sleep more comfortably at night. Not only that, wool is a natural bed bug repellant and is also fire retardant. Making this Wool Wrap a favorite among us and mattress buyers.
5. Otis bed Pulsar Futon Mattress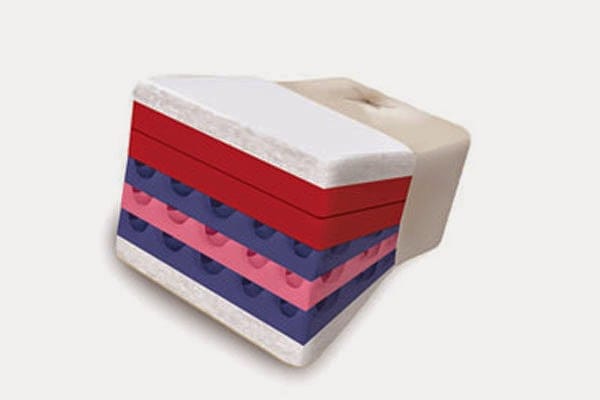 We tried to make a list without using more than two Otis Bed Mattress, but that proved to be impossible. The Pulsar Mattress features a viscoelastic memory foam cushion that is unmatchable in its comfort. It also absorbs body weight so there's no motion transfer in bed. Affordable and reliable this mid range mattress strikes the ultimate balance between futon and bed.
4. Otis Bed Gemini Futon Mattress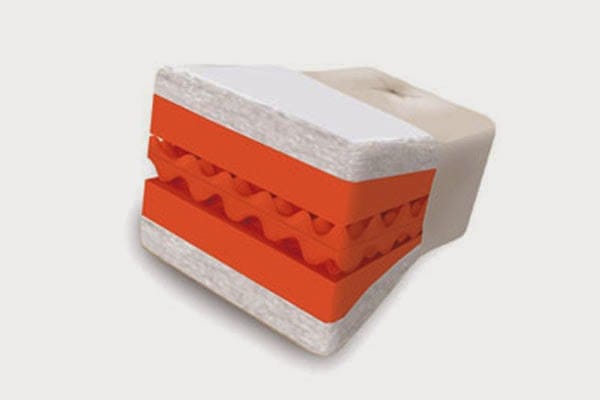 Some futon mattresses are better for sleeping rather than sitting, but the Otis Gemini offers the best of both worlds. Its unique foam body provides firmness that rivals even premium mattresses. The thickness of the foam wrapped in this premium package also makes it the perfect mattress for a platform bed.
3. Otis Bed Galaxy Futon Mattress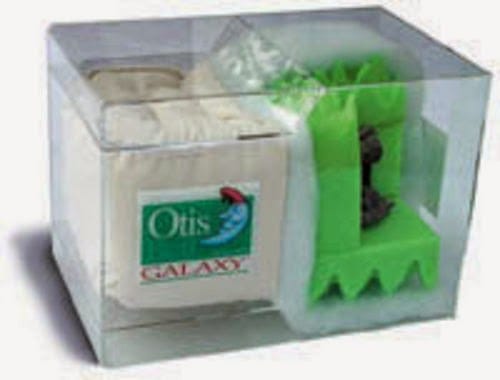 Another entry from Otis offers both durability and true comfort. The Galaxy is a foam encased innerspring mattress, which if you haven't heard already we're huge of fans of. This is a seriously tough mattress with a lifespan of about 15 years and made for everyday use. Buying a Galaxy would possibly replace your standard mattress for good.
2. White Lotus Organic Cotton, Wool & Latex 6 inch Futon Mattress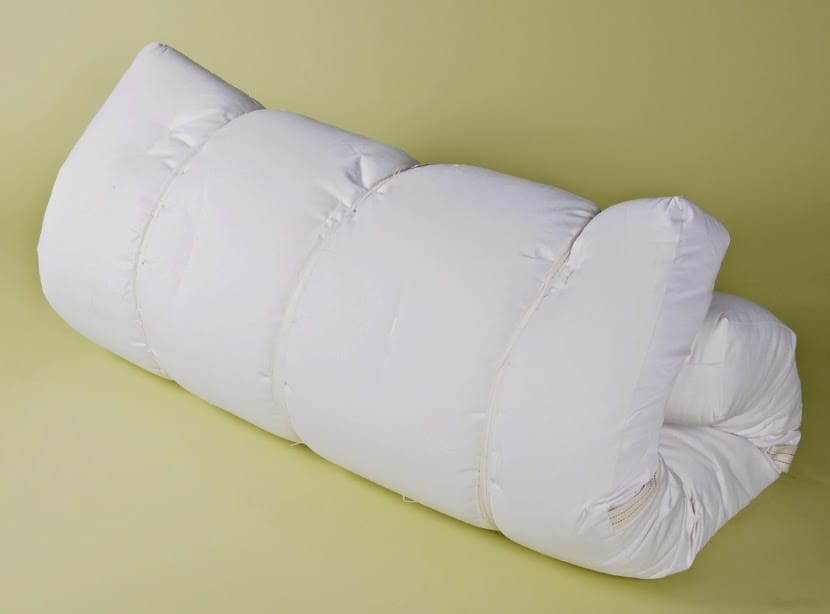 The White Lotus Organic Mattress falls on the high end of futon mattresses, but boy is this mattress a dream.  Featuring 100% organic USDA approved Virgin wool and cotton, this hand stuffed mattress is as comfortable as comfort gets.  As If all natural wool and cotton weren't enough, it also has natural latex built in, so won't give off any chemical fumes like other latex mattresses do.
White Lotus's organic mattresses are unrivaled in terms quality, and if you can deal with it's $1,500 price tag, you'll be in for the best sleep of your life. 
1. Otis Bed Haley 110 Futon Mattress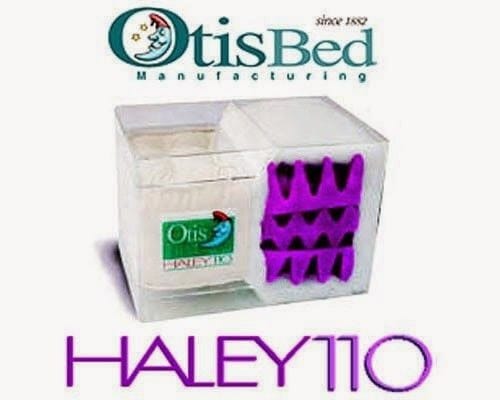 Coming in the #1 spot the Haley 110. This mattress absolutely deserves the top spot this list — it's the total package. It has durability, comfort, and doesn't include cotton, which over time guarantees degradation in quality.  The Haley 110's highly resilient foam was made to resist change over time so it will keep its original firmness for years to come. This is a perfectly balanced futon mattress in that it's not too firm and not too soft. The resistance foam in it absorbs energy and shock to give you the most balanced night's sleep.
Starting at $400 for a full size, it's the best investment you can make on a Futon Mattress.
We highly recommend it.