Exciting new events are happening at
Futonland.com
and we want to share this excitement with all our customers. We are happy to introduce a beautiful line of cozy and luxurious
100% Organic Wool Comforters
and
100% Organic Wool Pillows
by
Comfort Pure
. Finally you can allow yourself to dive in the world of purity of nature and impeccable comfort.
Organic Merino Wool Comforter
by Comfort Pure would not only offer one of kind comfort but undeniably unique health benefits. Wool from ancient times was always known as a heavenly fiber. Even with the high tech advancement in fiber technologies, no man-made fiber is comparable to a wool fiber. Wool does not attract dust mite, mold, or mildew. In medical terminology wool is called hypoallergenic. Wool fiber is the safest choice in flame resistance as shown by its institutional use. Because of its unique chemical structure and natural moisture absorption, it is difficult to ignite. Wool suits are worn by race car drivers to protect them from fire. Sleeping under natural and organic fibers was and always be better for our health rather than sleeping under petroleum-based fibers such as polyester and acrylic.
Did you know that the heart rate under the wool-filled comforter was significantly lower 100% of the time compared to polyester comforter (the Ergonomics Unit at the Polytechnic Institute of Wales). The Hohenstein Research Institute in Germany has found similar results.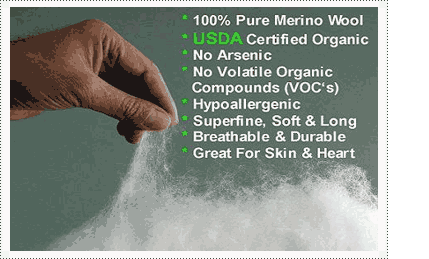 The light weight of 100% Organic Wool Comforters will allow you to enjoy the pleasure of its warmth and comfort all year around. Wool is a breathable fiber that provides instant warmth unlike synthetic materials. It regulates itself to individual body temperature and really is warm in winter whilst cool in summer. Since wool has yet another unique quality of keeping your body warm during cold month and cool during hot summer days and provides exceptional comfort as the dry warmth reduces the pain and aches associated with cold wet weather.
Our 100% Organic Wool Comforters are covered in luxurious certified organic cotton sateen, weaved in 300TC. Our exclusive quilting patterns eliminate the wool batting from shifting.
Care instructions: Wool fiber is a nature created fiber, so only professional dry cleaning must be used. We recommend using one of our duvet covers. Another good way to take care of our comforters is to expose them to direct sunlight and fresh air for a couple of hours every few months. Remember, with a simple proper care, our organic merino wool comforters can be passed on from generation to generation.
Dimensions for Comforters:
Crib 35″ x 53″, 1.5 lbs of wool fill
Twin 66″ x 86″, 4 lbs of wool fill
Full/Queen 86″ x 86″, 4.5 lbs of wool fill
King 100″ x 86″, 5.5 lbs of wool fill
Features:
Top Fabric: Certified Organic Cotton Jacquard
Fill: Certified Organic Merino Wool
Weight: Medium, 91oz/sq. yd.
Eco-friendly and reusable packaging
Certified organic to leading organic standards
Quickly wicks away moisture eliminating cold and clammy feeling. Less time is spent tossing and turning
Dimensions for pillows:
Standard 20″ x 26″, 1.5 lbs of wool fill
Queen 20″ x 30″, 2.5 lbs of wool fill
For unmeasurable all around comfort please take a look at our wonderful line of Organic Mattress Line by Comfort Pure.