The
Moon Collection
is a cozy rendition of modern living spaces. This smart set is complete and perfectly at home with leatherette applications, wood-colored accents, boxy wooden legs and subdued neutral tones. Let the Moon Collection take center-stage in your living space décor and reflect your flawless style.
Superior frame construction. Practically effortless operating mechanism. Rust and corrosion resistant galvanized mechanism and fitting parts. Steel innerspring coils with wrapped foam fill. Contemporary upholstery with exclusive tailoring and fine detailing. Minimal assembly required.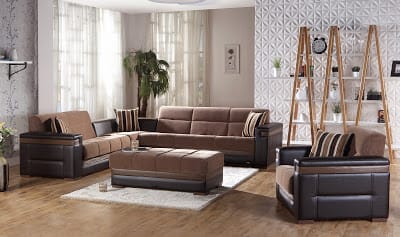 Now also available with Cream Arms.

Dimensions:
Sectional: 90.5″ x 32.6″ x 31.5″ Sofa; 32.6″ x 100.5″ x 31.5″ Chaise
Sectional Bed Position: 70.8″ x 43.3″ x 21.2″ Sofa; 43.3″ x 90.5″ x 21.2″ Chaise
Our Price: $1,739.99
Sale Price: $1,304.99