Futon covers
give the futon its character. They are removable and unzip very easily. Futon covers come in all sizes with a large assortment of different materials. You can always update the look of your futon with another cover and it won't break the bank.
What are the measurements for the futon covers? Is there a zipper?
Futon covers are hand made and fit perfectly on mattresses of appropriate sizes with thickness of about 6 to 8 Inch. Most of our futon covers come with three way zipper. Futon covers with zippers are very easy to get futon mattresses into. You do not have to worry about getting the edges perfectly lined up, you just zip.
What is Loft, Piping and Inlay?
Loft is a mattress thickness. Standard futon cover fits futon mattress with Loft of 6 to 8 Inch thick. For other mattress thickness simply select Loft size in the drop down box.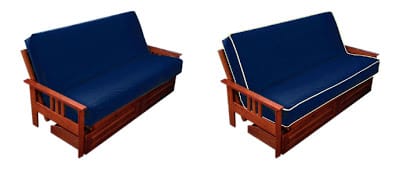 The futon cover is shown without piping (left) and with piping (right).
Piping might be made in different colors (blue cover with creme piping shown).
Piping is a decorating binding around the cover pointing out the edges of the cover, piping could be made of different color to compliment or contract the main cover.
Inlay is a bottom side of the futon cover. It can be made in different fabric. Cover with optional inlay is typically one print on top with a coordinating solid fabric on the 'flip side'. Usually this option is used to reduce the cover price. Also cover with inlay could be flipped if you were desperate to hide a stain before company arrives or even if your prefer the solid side for a change of pace.
What are the Cotton Print, Microsuede, Chenille, Heavy Texture Futon Cover options in futon sets?
All our futon sets have Solid Collection Futon Cover included. You can choose between standard color options or select Cotton Print, Microsuede, Chenille or Heavy Texture if you want to upgrade your cover option.
When you select a non-solid color cover with your package — specify the style in comment box at checkout. Our customer service representative will contact you to confirm the selected style.
What's included in pillow/bonus packs?
Pillow pack includes 2 pillows and a cover, bonus pack – 2 pillows, 2 bolsters and a cover.
Why do you sell sample swatches?
Sample swatches are sold for futon covers only in order to give our customer an opportunity to make a right choice in choosing the futon cover.