We have all heard of organic food, but not many have heard about
organic mattresses
. What exactly is an organic mattress? After all, we don't eat mattresses. Organic mattresses have been around for thousands of years. Before the foam and innersprings were invented, people used hay, wool or cotton to sleep on. Our ancient ancestors were not sleeping on a Simmons Beauty Rest. Organic mattresses are made of all natural materials. There are many mattresses that claim to be all organic but are not actually 100% made of natural materials.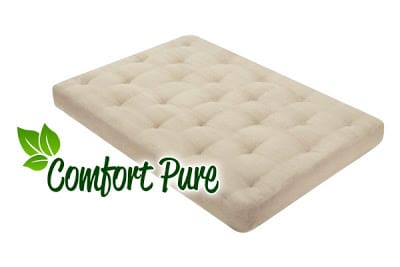 Why would somebody want an organic mattress vs a conventional mattress? There are several reasons. The most important is the chemical free aspect. Most conventional mattresses use a flame retardant call borate. The foam that is also used in these mattresses is petroleum based, and if cotton is used, it is usually treated with pesticides as well. There are many people with very sensitive allergies or asthma. People with these highly sensitive allergies can experience respiratory discomfort and problems caused by the odor from these chemicals which the average person cannot detect by smell. There has also has been scientific studies done that these chemicals used in conventional mattresses can be carcinogenic.
Many consumers are now looking for a healthier alternative and are beginning to research organic futon mattresses. There are hundreds of different futon mattresses on the market. A futon is simply a mattress that beds. It can be used on a futon sofa frame or a flat surface, floor or platform bed. Traditionally futon mattresses were stuffed with all cotton and still are today, however with advancement of technology and manufacturing, futons now come in all sorts of materials such as foam, latex, memory foam, innerspring and more. The task of finding an organic mattress in your local bedding store can be quite the challenge. They either don't exist, or they are extremely pricey.
Futonland, one of the largest online futon retailers in the country is now introducing a new line of 100% organic futon mattresses. One hundred percent organic means that absolutely no borate flame retardants or other harmful chemicals were used during production. Most organic mattresses on the market are only 80% organic in order to keep costs down. Futonland now carries "Comfort Pure" organic futons. Comfort Pure mattresses and futon covers are made of 100% organic cotton, pure wool and natural fabrics. All materials used are U.S. grown and raised. Organic Cotton is certified by USDA and TDA.
There are quite a lot of imitators out there that claim to be organic priced much lower. So, what is the difference between Comfort Pure and the rest of the imitators? Comfort Pure is handmade, uses all the highest quality of organic raw materials. The cotton batting used in the futons is dense and the tufting and stitching process ensures that the futon mattress is built to last for many many years. The main ingredients used in these mattresses are cotton and wool. People who buy organic do not want soy based foam, recycled innersprings and polyester casing in their futon(which many of the imitators offer). Comfort Pure is all made to order. The futons come as thin as 3 inches and as thick as 8". These mattresses will last 15-20 years. Made by hand in Vermont, rest assure that you are buying quality bedding that is made in the USA. These futons are the closest to the traditional Japanese futons that are used on the floor. They are firm, all natural and great for the back. People who have serious back issues are usually better off on a firm natural sleeping surface than an innerspring mattress. Enjoy many years of healthy sleep and comfort with
Comfort Pure
organic futon mattresses.