A day bed is simply a twin bed with side arms and sometimes a finished back usually in wood or cheaper ones come with metal bars. A day bed is used as a sofa for lounging and usually people put a lot of throw pillows and bolster pillows on it and then take them off at night to use a bed. Many day beds come with an optional trundle. The cheaper day bed frames come in metal and usually require a box spring so a trundle underneath cannot fit. Also the metal day bed frames tend to be on the flimsier side because they are much lighter. It is recommended to get a wood platform day bed that does not require a box spring.
Now the question is which type of mattress is best for a day bed? If you are going to actually use the mattress to sit and would like for your feet to touch the ground it is recommended that you purchase a twin futon mattress with either a combination of foam and cotton or all foam. The spring mattresses tend to be on the thicker side, and keep in mind if you are using it for lounging and sitting, all the body weight is concentrated in one spot which can wear out the coils a lot faster.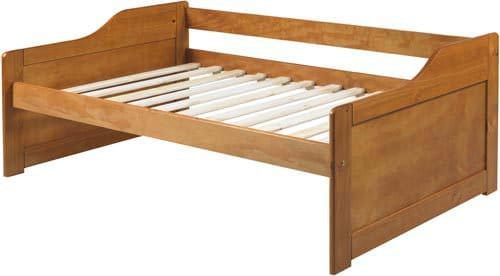 The all foam futon mattresses that are recommended for using a day bed are the Stratosphere, the Haley 110 and the Moonshadow by Otis bedding. These futon mattresses are all foam and contain no cotton. The Stratosphere is the thinnest of these and measures about 6 ½ inches thick compared to the Haley 110 and the Moonshadow which measure 8-9" thick. These all foam futons are made with industrial strength foam and will keep their shape for over 10 years. They provide excellent comfort for both sitting and lounging as well as sleeping.
If you would like to go with a more economical priced twin futon mattress you can go with a combination of cotton and foam like the Moonlight mattress from Gold Bond. The Moonlight contains 6 inches of foam in the core of the mattress and 2 inches of cotton batting wrapped around it measuring 8-9" in thickness. Because this futon mattress contains 6 inches of high density foam in the core it is able to hold the cotton in place to prevent shifting (if it were to contain no foam) as well as provide sufficient support for sleeping and sitting.