Shopping online for a sofa bed or futon can be difficult by just judging the piece by its picture and price. Big box stores like Walmart, Target and Kmart sell these very inexpensive futons that are exclusively made for these stores. These "futons" do not really warrant the title "futon" because they are not. A futon is simply a mattress that bends. An American futon is a futon mattress with a futon frame that sits like a sofa and converts to a bed. The "futons" you find online from these big box websites are actually called "click-clack" sofa beds. They use a special clicking gear mechanism which allows the backrest to fold down to make into a bed.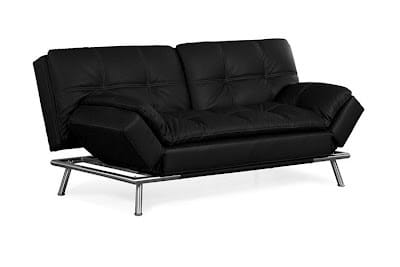 Keep in mind that 90% of these click clack sofa beds do not open to a standard full size which measures at least 54" wide. A standard full size mattress should be able to accommodate two people comfortably. Click clack sofa beds open to no more than 50" wide, and most open to under 45". This is more like a twin and half, so two people would be quite a tight squeeze.
Now let's look at the price of these "futons" that are big box buddy Walmart advertises on their website. Walmart sells many of these "futons" priced as low as $125. So what exactly is the difference between a click clack sofa bed from Walmart compared to another click clack that looks similar priced at $399.
First, let's talk about size. These futons are less than 5 and half feet in size. That means if you lie across it and you are 5'8, your feet will hang off the side. Deceivingly displayed in the pictures, these futons appear to be like any other sofa bed, but they are far from it. Most people don't bother to really look at the dimensions first. A normal size 3 seater sofa should be no less than 74" wide. These futons from Walmart are actually a loveseat size.
After reading hundreds of customer reviews for these pieces on the Walmart website, I noticed that the customers were complaining about the same issues. Number one issue is the assembly. These pieces are shipped by freight in a box and must be assembled. Because of very cheap manufacturing, the quality assurance of these "futons" is not very consistent. Many customers complained that the holes where you screw in the legs are not aligned well ,making it very difficult to assemble. This goes for anything that you buy in this price range. The manufacturing is simply not consistent.
Lastly, we need to mention comfort. Common sense says, you can't expect much from a new sofa bed in this price range. Let's face the facts, these futons are not real living room furniture and do not hold up the same. The amount of foam padding used is exceptionally minimal so the sitting and sleeping surface will feel like bricks. It is probably more comfortable to lie or sleep on these than sitting. The reason why is that cheaper materials will get compressed easily and faster when all your body weight is in one spot making it very intolerable to sit on for more than one hour at a time. Bottom line is that these cheap "futons" should only be purchased for a college dorm, childrens play area or a very temporary solution if you are on a tight budget. So in conclusion, don't be deceived by the attractive low price and touched up photo. You know the saying, "you get what you pay for."