If you are looking for a luxury premium
mattress
at an affordable price, you can't beat the value of the
Veraflex mattress
by
Sunset
. Shopping for
mattresses
can be quite a challenge online especially when you can't try it out. The only thing you can go by is the description. So how can you tell the quality of mattress by description. There are certain details you should look for. Please keep in mind that if you are shopping for a long term sleeping solution online, there are a few tips you should take into consideration.
If you are looking for something that will keep its shape for more than just a few years you should make sure that the coils are more than 8" thick. Thicker and longer coils will keep their shape longer, especially in the middle part where are your weight is concentrated in one spot where the lower part of your torso rests.
Foam encased perimeter is another quality feature in a long lasting mattress. This means that there is a barrier between the springs and the outside of the mattress. How do you know if the mattress is foam encased? All you have to do is poke your fingers on the side of the mattress, if you can feel the coils, that means it's not foam encased. Foam encased mattresses provide support around the edge, so you can sit on the side of the bed without it sinking in. Also the foam encasement helps to keep the coils in place providing greater longevity.
Next, it is important to have a sufficient amount of foam padding over the coils. There should be enough that you should not feel any coils sticking in your back.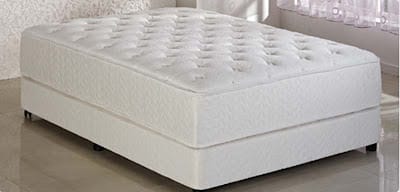 The Veraflex mattress by Sunset is a 12" mattress with aloe vera contained in the surface. The aloe vera is great, because it keeps your mattress cool and keeps you refreshed waking up rejuvenated every morning.
You can't beat this price of just $389 starting in full.