The
Moonshadow
futon mattress
by
Otis
will give you a sleeping experience you have never had before. This mattress measures close to 10" of pure slumber thickness. This mattress is packed with over 14" inches of high pressurized density foam compressed into just under 10" inches. The density of the foam is 2.0, that means it's super strong and will outlast any sofa cushion on the market. The best feature about this futon mattress is that it has a nice rebound. This means that when you lay on it, you will feel a little bounce. This mattress does not contain springs but it sure feels like it. This means that you can plop yourself down on this mattress and it won't feel like sleeping on a bag of bricks. This mattress does not contain cotton but rather a polyester wrapping around the foam.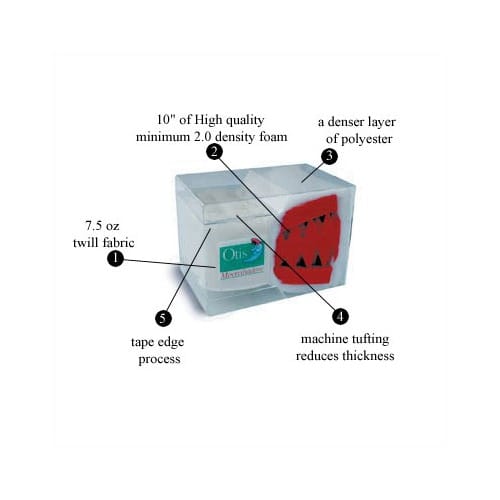 Cotton, as you know, gets compressed and hard over usage. Polyester fibers as opposed to cotton will retain their resiliency for much longer. This mattress will last over 12 years without showing signs of sagging. It has a plush surface for sleeping with a firm layers of foam underneath to support your fragile bones.
Moonshadow
can be used on a futon frame but keep in mind that due to its thickness, it may be slightly harder to open and close your frame if you will be doing that on a frequent basis. It is definitely recommended for everyday sleeping on a platform bed frame or open futon frame. For luxury slumber that will last over a decade, check out the
Moonshadow
futon mattress by Otis.