Introducing the
Oz Deluxe convertible sofa bed
by
Innovation
. If you are looking for a modern, sleek and high quality sofa bed, the
Oz Deluxe
by
Innovation
will make a great functional piece of furniture you can show off in your living room. This sofa bed is 93" long with 80" of interior lounging and seating space. Low profile back with modern boxed arms give this sofa bed a contemporary look without an overwhelming bulky presence. The sofa can recline indivdiually on each side for lounging or sleeping. Constructed with a durable solid wood and steel frame. The seating and back rest decks contain 7" pocketed coils for a plush yet firm sleeping and sitting surface. The pocketed coils ensure greater longevity for frequent usuage.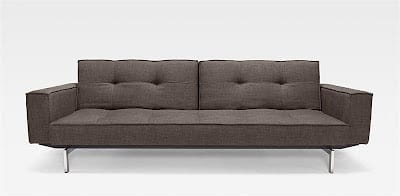 This modern sofa bed can also be accomanied by a single
matching armless chair
which can be layed flat to create multiple configurations. Can be used as a chaise lounger or can be also used for sleeping the long way. Comes in your choice of leather textile or fabric. Easy to ship and maneuver through elevators, hallways and doorways.