If you decided to go
organic or green
for your mattress and you are trying to decide which mattress to choose, it's good to take a few things into consideration when making your selection. When it comes to
organic mattresses
, it's all about the ingredients. The main reason people are now choosing organic mattresses is due to the emission of toxic petrochemicles in the manufacturing process.
Organic mattresses
use only all natural ingredients. The
Comfort Rest
organic futon mattress has all the important ingredients to give you years of superior slumber. The
Comfort Rest
mattress has several main ingredients, all 100% Natural and all chemical free. There are no petro-based chemicals in the organic mattress, which makes this one of our most pure special and favorite organic mattresses. The
Comfort Rest
consists of three main
ingredients
; 100% American grown USDA certified organic cotton, 100% American grown virgin wool & EU & USDA certified 100% organic Dunlop latex. Dunlop latex is the only natural latex available today without chemical additives. Our natural Dunlop latex is naturally hypoallergenic, dust mite resistant, and will not support mildew or bacteria. Our latex is manufactured by a plant that is ISO 9001 certified, the mark of excellence and consistency in any industry. The benefits of wool in a mattress are many. For one, it can be bent back on itself more than 20,000 times without breaking, compared to about 3,000 times for cotton & 2,000 times for silk therefore it is resistant to tearing and helps add years of life to your mattress. Wool is also hygroscopic fiber; it takes up moisture in vapor form. Tiny pores in the epicuticle make the fiber semi-permeable, allowing vapor to pass through to the heart of the fiber. The capacity to absorb makes wool a "temperature regulator" is most beneficial to any mattress, as it keeps you warm in the winter and cool in the summer.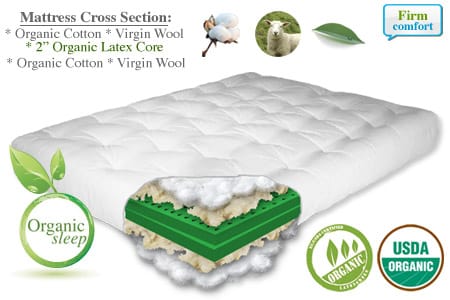 Key Mattress Features:
9-inch Firm organic mattress.
Made for every night sleep.
15-20 years life expectancy with every day use.
Includes the following Organic Ingredients:
Organic Dunlop Latex
2 one inch latex cores
34-38 ILD – 85-90 Density
Organic – Chemical Free.
Superior Pressure Relief.
Anti-microbial Dust mite Resistant.
Natural Virgin Wool
Superior pressure Relief.
Natural Moisture & Temperature Regulator.
Adds Loft & Spring.
100% Natural Organic Staple Cotton
Chemical free, organically grown.
28 lbs of Firm Natural Support.
Eco-Friendly natural bedding.
Grown in America.
Available in all sizes.