Introducing the new line of
Lifestyle Solutions new convertible sofa beds
. Finally we have some well priced sofa beds that are offered in many different colors besides the common black bonded leather. Each of our sofa bed convertibles combine elegant sofa design with simple instant multi-position versatility. Available attractively in tufted, easy to clean upholstery means that each unit requires minimum care but with premium visual characteristics. At Lifestyle Solutions they believe in creating fashionable and functional furniture that complements today's active lifestyle. Their furniture reveals an intimate knowledge of design and an understanding of our customer's lives and aspirations. The right look and feel was carefully coordinated to allow our customer to experience the comfort and style of the furnishings they have chosen for years to come.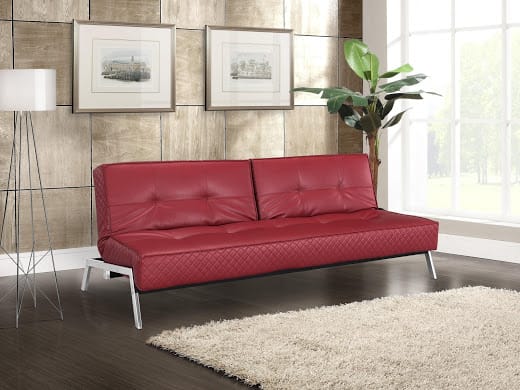 We now have 5 new convertible sofa beds from the Marquee collection. The Marquee collection is known for their innovative stylish chrome legs . The Marquee collection features the
Copenhagen
, the
Bari
, the
St. Martin
, the
Bonn
, and the
Denmark
. These sofas are competitively priced ranging from $599-$899. These sofa beds are attractive enough to be used as your main living room sofa and comfortable enough for long or short term guests visits.