If you are looking for something small, space saving and functional for one person, then a
convertible chair bed
is probably the best solution for you.
Futonland
carries a number of different
chair beds
from the low end to high end. You must keep in mind how it will be used. Will it be sat on quite often? Will it be slept on quite often? If you think that this chair bed will get its fair share of use and your guest will be sleeping on it for a week straight or more, it is highly recommended that you invest in a well designed sturdy piece. The three chair beds that will be reviewed are ranked from good, better, and best.
The LK06 Chair bed by J&M Imports (Good)
This chair bed is modern in design and low to the ground. It folds out to just around a twin size bed and it has hidden that unzip from the back and front so it sits off the ground. The back can be adjusted as a headrest in 4 different positions. The LK06 comes in a red or black fabric and retails between $350-$400. This chair bed is recommended for occasional use, up to about a week at a time. The cushion where you lie on is just shy of 5" thick. It is considered firm. If you want to add an extra layer of cushioning, it is recommended that you use a mattress pad or foam topper for extra comfort.
The k43 chair bed by J&M Imports (Better)
This modern leatherette sofa sleeper has Euro design that is perfect for any modern room. Plush upholstery is contrasted with a steel frame for a space-age style. Form and function merged with innovative design give this sofa sleeper its own distinct feel. This chair bed fold in thirds and has hidden legs that extend when open as a bed. With subtle chrome accent legs and sleek modern design, this chair bed can be used also as living room furniture, not just a second room. When opened as a bed, it rests about 15" off the ground, so its not too low for someone on the older side to get on and off from. Built with a sturdy frame with sinuous spring system, this piece is built to hold up over the years and can be slept on with frequent use. It measures 47" wide, about 8 inches wider than a standard twin. Plenty of comfortable and ample sleeping surface. The K43 comes in two leather textile colors, black and white. This piece retails between $549-$679.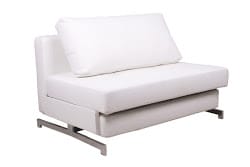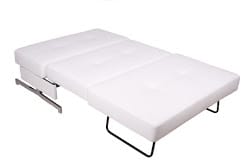 The Cubed chair bed by Innovation (Best)
Innovation furniture is known for their sleek Scandinavian design, quality and functionality. The Cubed is no doubt the best designed chair bed available. The Cubed folds out in thirds with hidden legs that extend out so you can sleep comfortably off the ground. This innovative design provides such a modern aesthetic appeal that you can show this piece of furniture off in your living room as a functional accent chair. The Cubed comes in black and red fabric or black and white leather textile. Comfortable to sleep long term and comfortable for frequen sitting and lounging.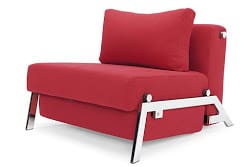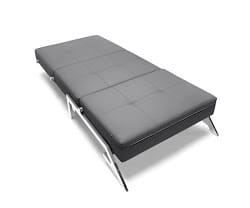 The Cubed is also available in a full loveseat size for two people to sleep on comfortably. Cubed starts at $1,250.