I'm sure many of you have googled a certain item you were looking for and on the first page of the search results, you find that they are selling
inexpensive attractive sofa beds
from Target and Walmart. As you click on their link you will find hundreds if not thousands of different furniture items. You come across a
click clack convertible sofa bed
for just $179 with free shipping. The sofa looks stylish, and wow, with that low of a price you can't resist that super deal. So you go ahead and order the
sofa bed
to be delivered to your 5th floor walk up apartment. You get a call from the delivery driver downstairs. You tell him, "come on up, I'll keep the door open." This is where the nightmare begins…
The driver tells you that he is not required to bring the item into the building and that you'll have to come down and bring the sofa bed up yourself. You later find out that "free shipping" is exactly what it means, "free shipping", not delivery. Many online consumers who purchase larger scale items think delivery and shipping is the same. Okay, so now you're a little upset, but you say to yourself, "no biggy, after all, I got a good deal on this sofa bed."
After schlepping it up five flights of stairs by yourself, you are now ready to tear that box open like a little boy on Christmas morning. You open the box and painstakingly begin to assemble your new piece of furniture. After an hour of trying to understand the assembly instructions, which might as well be in Chinese, you assemble your stylish sofa bed and now you take a look at what you just finished putting together. You notice that it doesn't look as cool as the picture online. Okay, no big deal, let's see what your rear end thinks about it. After you take you sit on it, you soon realize that you could have bought a pile of bricks instead to sit on, because there's probably not much of a difference.
Now you begin to have buyer's remorse. You can't possibly imagine sitting on this pile of junk for the next few years. You feel cheated, ripped off and deceived. However, what you failed to realize is that you get what you pay for.
You must understand that the furniture sold online from Target, Cosco, and Walmart are so cheap because they are mass produced in China exclusively for the big box stores. They are knock offs. But not just any knock offs. They are literally the knock offs of the knock offs. This means that the lower end sofa beds commonly sold in retail stores which are mediocre to begin with, are now twice as mediocre when you purchase from the big box stores.
Now you are upset and want to try to return the item. You find out it's not as easy to return a large item as it is to return a pillow case. Even though the sofa bed says "free shipping", you still have to pay for shipping to return it. You decide to just suck it up and now you learned your lesson about buying cheap furniture from big box stores online.
Local NYC furniture stores
When you do a keyword search in google for a common piece of furniture, you will almost always see the big box stores at the top of the page under the paid ads section. Keep in mind that for the majority of furniture sold on these websites, are not stocked in their warehouses. These sites are simply a portal for the manufacture to drop ship it directly to the customer. This means that if the distributor or manufacturer is based out of California and you live in New York, expect longer transit times. Just because you have a local Walmart in your area does not mean the item is coming from there.
The biggest factor when ordering furniture from these places is the delivery service. Many people don't quite understand that when ordering larger pieces of furniture, like a desk, dresser, bed or sofa, that these pieces require assembly. If you were to pay for the assembly option or "white glove" delivery service, you can pay almost half of what the item costs you just in delivery fees. Now here's the other catch. For those city slicker urban dwellers who live in apartments, be it walk up or elevator, the "free shipping" does not mean "inside" delivery. They usually drop it off in front of the building and "se la vie", you are responsible for the rest. Curbside delivery is a little easier when you live in the suburbs and have a garage.
Another factor to take into account when purchasing from big box stores is that you may not always get the assembly right. Sometimes a piece could be missing, or damaged or wrong color, or simply you assembled it wrong.. Now what do you do? You may not need to return the piece but you need to get it serviced. Good luck, you'll be waiting weeks or even months before they get it right. Imagine purchasing a sofa bed because you have family and friends visiting. Now you're screwed because they have no place to sleep.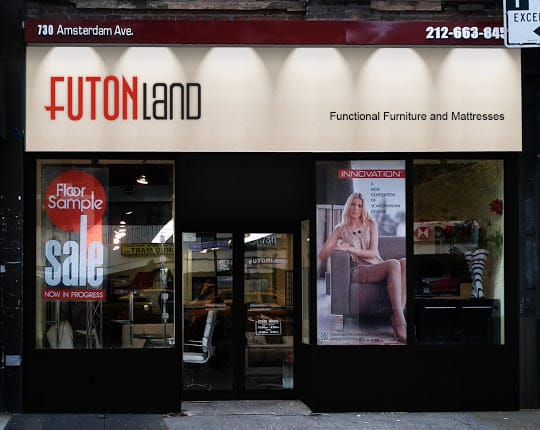 This is why purchasing from your local business is better. Not only is the service better, but you are also helping the local economy and small business owners. True capitalism at its finest. Let's say for instance you buy a click clack sofa bed for about $299 (St Paul, Ibiza, Duo Modern or Yorker) and you need it delivered and assembled by a certain date. Your typical delivery charge for furniture from a local store will run you about $39-$69 depending on the nature of the item. The reason for this is that local furniture stores will have their own delivery team rather than an outside common carrier. If you were to find the same item on Walmart's site and wanted full service delivery assembly, get ready to shell out between $150-$200 or in some cases, even more.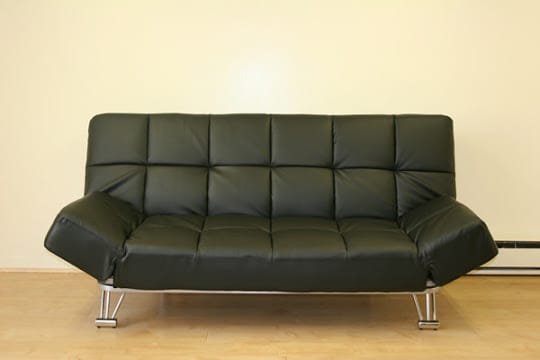 Also keep in mind that local furniture stores usually have the items in stock so delivery will be a lot faster. If the items is not in stock at their local warehouse, they usually have a network of local suppliers where they can get their merchandise from in under 3 days. Also many of the local stores and online sites will provide a better warranty if any issues arise. The furniture can be easily serviced by a technician.
With Walmart and Target, you really don't get any true customer service other than an 800 number and a headache trying to coordinate the time and day to return an item. Also, keep in mind that Target and Walmart websites are bland and general and are not very informative about many items. Local niche websites offer better more informative information.
Let's say you are looking for a futon mattress or a sofa bed and you are confused about all the different options. Do you think that the customer service reps at Walmart and Target have enough knowledge and expertise to give you the proper guidance in selecting the right futon mattress? Most likely not. There are thousands, and thousands of different products on these websites. It's impossible for these customer service agents to know all that information.
On the other hand, some of these big box ecommerce sites have an option where you can directly ask the manufacturer a question. Well, don't you think you will get quite biased information, especially if you trying to compare other brands?
In conclusion, when purchasing furniture from online retailers, don't be fooled by the cheap stuff. If you see a sofa, or bed, or dresser priced way below the average market price, be careful. If you are a handy person, nor picky about quality, or you just need something short term, then maybe you should consider buying this junk. Don't be fooled by pretty pictures, or free shipping deals either. When purchasing furniture online or offline, the second most important factor asides from the actual product itself, is the "service". We have a saying in the furniture industry, "it's all in the delivery." Delivery is everything. Local retail furniture stores pride themselves on their delivery service. This is not Dominos Pizza delivery. This is furniture that will go into your home and that you will have to look at everyday. Do the right thing, and buy local.