Let's face the facts about IKEA. They have stylish modern design, huge selection at very affordable prices. The average consumer of furniture in the United States does not have the typical spending power to afford a sleek, boxed arm, scandanavian style sofa priced at $2000. If you have ever been to Raymour & Flannigan, Jennifer Convertibles or Bob's Furniture, it is very hard to come across furniture with modern or minimalist design. The typical style of your typical imported from China American furniture is bulky. Sofas tend to have high backs, rounded or over stuffed arms. Young Americans in their mid-twenties and thirties want a different look. They do not want the same furniture they grew up with. These young consumers are internet and technologically savvy. Furniture shopping is usually done once every ten years or when moving to a new place. For these young first time furniture buyers, they have really little knowledge about furniture and only can go by look and price.
You know the saying, "you get what you pay for." If you see a sofa priced at $299 and there is another sofa for $599, chances are the $299 sofa is made of low quality materials. Looks can be very deceiving, especially at IKEA. IKEA sells furniture that is not typically found at your local mom and pop store in middle America, nor at your typical national furniture chain retail stores. IKEA furniture is deceptively attractive. It mimics the style of trendy European designs. Straight lines, low sitting sofas, chrome accents.
This is a typical comment from an Ikea customer:
"I personally don't prefer the IKEA sofas. I've never been able to bring myself to purchase one because they just are not that comfortable. I LOVE the way MOST of the look, but the comfort is just not there… for me. IF I were to buy a couch, it would be the Karlstad, more specifically the blue one. I loved this couch and it seems pretty darn comfy for IKEA.

Personally, what I love about IKEA is everything else they offer. It's good design at UBER cheap prices. I don't buy too much furniture from there anymore because they don't really hold up well to moving a lot (husband in the Coast Guard). But I do love the little things, pic frames, fabrics, pillows, decorative items… some smaller furniture pieces."
What hooks customers on the IKEA sofas is not just price but the fact that many of them use slip covers. Its great that you can update the look of your sofa with new slip covers, but is it really necessary to purchase new slip covers on sagging cushions, or is it better just to purchase a whole new sofa?
Here's another comment from an IKEA customer:
"I purchased my Ektorp fullsize couch back in March 2005. As with most of the reviews here, for the first 3 or so years, it was great. The cloth cover did show stains, but it was easy to replace. But, at about 3 & a half years, one of the legs broke, and the springs in the couch began to sag pretty severely. I'm a large fellow and so can be pretty hard on a couch. Finally, at 5 years, the frame basically imploded and the couch collapsed completely. So, I can say that for a fairly limited lifespan couch that's got a good price. The Ektorp is fine. But, don't expect it to last long enough…"
Life Span, longevity, durability…what does all this mean? Anybody who claims that their $299 sofa from Ikea is still holding up after ten years, simply means that they barely use it, or if they do use it, they must have a body weight of under 60lbs. When it comes to life span of furniture is can only be measured in years if it is used on a daily basis. Especially when it comes to sofas. The only wear and tear of a sofa if not sat on daily would be the fading of the dyes used on the fabrics.
Since we are comparing and contrasting products, lets take a closer look at your typical Ikea sofa bed/futon.
This is the PS Havet Sofa Bed.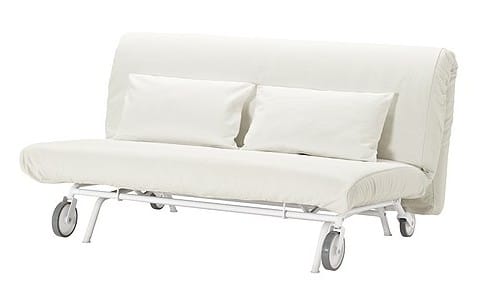 First when we see this image, it looks no different from the old school cascading futons where the mattress hangs of the back frame. Quite ugly in my opinion. I would never put this in my living room.
Second, we have to look at function. The frame extends forward to make it into a bed. It does not open horizonally or using the bifold design. What does all this mean? It means that typically you would have a table in front of a sofa. Now you have to completely move the table out of the way to make room for the bed.
Now, lets take a look at the composition of materials.
Sofa bed frame:
Tubular frame: Steel, Steel, Epoxy/polyester powder coating
Wheels/ Foot: Polypropylene, Synthetic rubber
Mattress:
Total composition: 75 % cotton, 25 % polyester
Part 1: 25 % natural/ 75 % synthetic latex, High-resilience polyurethane foam (cold foam) 2.4 lb/cu.ft.
Quilting: Polyester/viscose (rayon) fiber wadding, Non-woven polypropylene
Fire-retardant interliner: 100 % cotton
Notice that the bed frame is made from tubular steel. "tubular" or "cylindrical" is the key word. This is not solid metal. This is the same metal used to make the cheap $199 futon frames.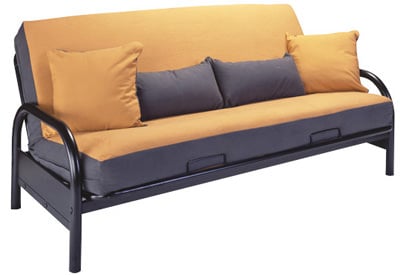 When it comes to a bed or sofa frame the best way to test the quality is by trying to lift it up. The lighter the frame, usually the cheaper and weaker it is. Tubular metal is used because it is cheaper and the quality of the welding is nothing to boast about. With heavy usage or other unmentionable activities, it doesn't surprise me if the welding snaps within 3 years. Even sooner in some cases.
The uneducated consumer who has never owned a futon before may like the look of the metal frame because it appears to be the most modern in style. Younger people tend to stray away from the exposed wood frame futons simply because of the aestetics, not price. Don't get me wrong here, price does play into factor but few people know that hard wood frames are always the best. They are constructed similarly to a platform bed frame with flat wood slats that can easily support a heavy mattress along with weight capacity of over 500lbs.
If you like the look of a black frame with no wood grain showing, then the best option is simply choose a frame in a java or espresso finish. This shade of color will hide all the grain patterns and the futon frame will no longer have a wood appearance.
Here is a modern wood futon frame in a dark color that even has a finished back. This is not your typical college futon, this is a true piece of furniture built to withstand abuse, and also has an aesthetic appeal that would make you want to show it off in a high traffic room.
This is a wall hugger frame with a smooth opening and closing mechanism. It opens on the long side like most full size futon frames do, which saves you space. This is the type of futon frame that can also be floating in the middle of the room as opposed to up against the wall. The back of the frame is simply beautiful to look at and is not the run of the mill futon frame.
The advantage of having this type of futon frame or any standard full size futon frame is that you are able to choose your comfort preference from a wide selection of futon mattresses. This frame is called the Orion made by Strata. Strata manufactures the most premium futon frames that have an easy conversion mechanism. There is no need to lift or adjust the mattress to relieve the stress from the weight of the mattress in order to open and close it. Strata frames start about $450 and up in full size. The frames are strong and solidly built to last many many years.
Getting back to the Ikea futon knock off, lets take a look at the mattress composition.
Mattress:
Total composition: 75 % cotton, 25 % polyester
Part 1: 25 % natural/ 75 % synthetic latex, High-resilience polyurethane foam (cold foam) 2.4 lb/cu.ft.
Quilting: Polyester/viscose (rayon) fiber wadding, Non-woven polypropylene
Fire-retardant interliner: 100 % cotton
The composition of the mattress is similar to your basic cotton and foam mattress. The foam part of the mattress is usually an inch thick layer encased in a poly/cotton mix. The "synthetic latex" part of it is all marketing hype. Synthetic latex mattresses have one distinct advantage, which is their initial cost. They are much cheaper than natural. However, they will not last as long so in the long run this is one item that should be given consideration. It may mimic the feel of real latex but lack essential benefits such as resistance to mold, dust mites and bacteria. Asides from the mattress part, what really prices this item at $449 is the feature of the wheels. For nearly half the price you could get a metal futon set that serves the same function and is more practical than this piece.
Find your next futon today at futonland.com.