Futons are flexible and foldable frames with mattresses that double as couches. The style you buy will depend on whether it will be used as a couch, a bed, or both, depending on the needs of their owners.
Futons fold flat when needed for sleeping and sit upright for use as a chair or sofa. It is necessary to keep both potential uses for the piece in mind when choosing a futon.
Measure the space available for your futon in the desired room. The measurements are necessary to ensure that your futon can lie completely flat without leaning into walls or other furniture.
Consider the materials you would like for your futon. Basic metal frames are inexpensive and great for dorm rooms but look out of place as part of a wooden living room or bedroom set. Wood and metal are the two most common futon frame types. Choose a frame model from a variety of futons in different styles, colors and price points.
Choose between a Bi-fold and Lounger frame. A Lounger is folded twice and uses the width of the mattress as the couch. A Bi-fold is folded once and uses the length of the mattress as the couch, providing more seat room. Check the mechanism used in a frame, ease with which you can change its position. Inexpensive frames may look nice but may also be very difficult to operate.
Select a futon mattress according to thickness and comfort. Inexpensive mattresses may be so thin that you are able to feel the frame beneath. Thicker mattresses are more comfortable but may be harder to fold and more expensive. Also, see what the futon mattress is made of — usually either cotton, a cotton-foam combination, a cotton-polyester blend or a cotton-wool combination:

Get a futon made of cotton and foam if you're looking for a mattress that weighs less. This combination also holds its shape and doesn't sag.
Try a cotton-polyester blend if you're looking for an even lighter mattress. It's flexible and soft and holds its shape.
Think about buying a cotton-wool combination if you want a super soft mattress. But keep in mind that cotton-wool is not very flexible.
Consider an innerspring mattress made of a spring unit that sits between layers of foam and cotton. It's flexible and gives the feel of a traditional mattress. However, it does weigh more than the cotton and cotton-combination futon mattresses.

Purchase a washable cover, pillows, and other accessories to protect your investment and accent your décor.
For your convenience, we offer great deals on futon sets that come with a futon frame, a mattress, a non-slip pad and optional covers and pillows because all of them are necessary parts of the futon.
Now when you know how to choose a Futon right for you let's look closer at the main components. For your Futon, you will need 3 main parts: Futon Frame, Futon Mattress, and Futon Cover.

Futon Frame, Futon Mattress, and Futon Cover (with optional pillows)
Most of the Futon Frames include a Futon Body and a set of Arms. Though sometimes the Futon Frame doesn't need arms. In any case, first of all, you need to choose which kind of body you need according to your wall space and the way of use.
Futon Bodies
With a full-size Loveseat, you can fit a conventional full-size bed (54″ x 75″) into 60″ of wall space. With a twin-size Loveseat, you can fit a conventional twin-size bed (39″ x 75″) into 45″ of wall space.
Both Bi-fold and Lounger Futons could be folded to bed position. To fold a futon to bed position lift up the sitting cushion of the futon. The futon is usually broken down into two main parts: the Sitting Cushion and the Backrest Cushion.
When the futon is in the couch position, simply lift up the frame supporting the sitting cushion and the futon will open up into a bed. When the futon is in a bed position and you want to fold it into a couch, lift the Sitting Cushion first and then fold the backrest in.
To gain some more storage space for your room you can also buy an optional set of sliding Futon Drawers to your futon frame. Drawers come in standard sizes and fit under futon sitting cushion.
Also, several futon frames come with Drop-Leaf parts included in a futon frame. Generally, a Drop-Leaf frame features two side panels attached to the arms, these panels are hinged and so can be extended to small side tables. Some Manufacturers also offer matching coffee tables and other accessories for their Frames.
Futon Sizes
Futon Size measures by the standard size of its body or mattress. While Futon Mattresses have the same dimensions as Conventional Mattresses they come in split sizes for Lounger bodies.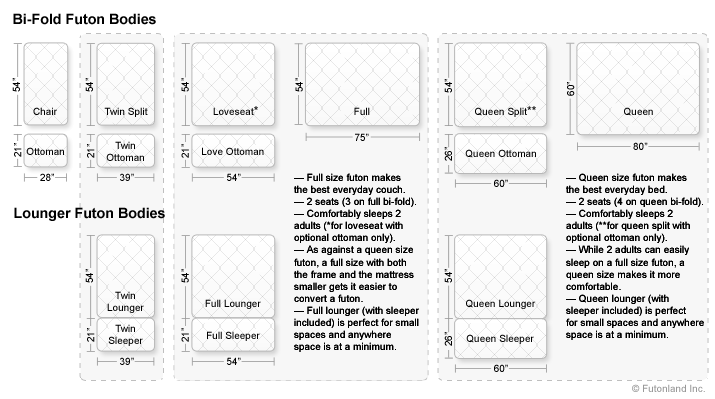 Futon Mattresses
Choosing the right futon mattress is easy once you understand how the filling materials cause the mattress to react differently to the weight of the human body and other criteria. The following graph should help you determine which futon mattress will perform best for your personal needs and application.
Please use this guide wisely. It is meant to help you understand how the product will perform, not judge its quality or value.
Consider how often someone will sleep on the futon. If you plan to only occasionally use it as a bed, perhaps as a guest bed, consider getting a less expensive futon mattress, such as a cotton-filled one. If you plan on using it nightly, you should splurge on a high-quality mattress.