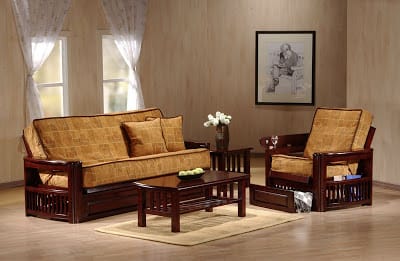 The futon is one of the useful and practical furniture that is a must in your home. It is a couch as well a bed. That helps save on cost and space.
Futon is a Japanese word for a cotton mattress. Originally futons equated to a cotton mattress which was mainly used on the floor or on a basic tri-fold frame.
However futon mattresses have evolved over the years and manufactures have produced a wide variety of categories and comfort levels for you to choose from which include: innerspring, foam, memory foam, visco, wool and coils. These innovative additions contribute to more comfort and durability of present day futon mattresses.
The innerspring futon has the appeal of a traditional mattress when it is placed on a platform bed, but has a flexible bonus when placed on a convertible frame because it folds up for the sofa look and down for the platform bed look.
Foam will add a whole new life and dimension to the original cotton futon mattress. Foam is made from chemicals or a soy bean, air, and water. Depending on the mix of those ingredients will tell you how soft or firm the foam will be and how long it will last.
Coils will enhance futon mattress by eliminating motion transfer and providing superb comfort only comparable to traditional upholstered furniture.
Visco memory foam will contour the shape of your body and surround you with luxurious comfort.